Product Description
Our battery GPS and anti-theft solution is comprised of GPS module and software operation platform. This equipment includes GPS satellite positioning system and network positioning system, that is GPS+LBS+WiFi dual intelligent positioning mode. It has the function of satellite positioning, base station locating, remote reset, remote upgrade, fence alarm, tracking replay, battery low voltage alarm, vibration alarm, ect,. The utility model aims at resolving the problem that trucks can not guard against a thief effectively and providing a global position system (GPS) monitoring tracing system for logistic management.
With on-board of GPS Positioning Tracker of 24V Battery GPS Protector, it can locate at any time and anywhere, improve efficiency, achieve real-time update of vehicle position and state, improve the utilization rate of resources and turnover rate. Strictly control the vehicle speed, route, fatigue driving, and emergency help or other hidden dangers. In short, with rapidly rise and development of the Internet of Things(IoT). Vehicle Battery GPS Tracker & locator are of great significance for logistics management and other industries. In the foreseeable future, the development of GPS Positioning must be faster and faster.
Battery GPS Protector 24Volt with GPS Tracking is a integration of GPS Technology into 24VBP300Ah of Trucks start up and solar battery protector. Therefore, It has dual functions of Battery Protector 24Volt and Smart Battery GPS Protector 24Volt.
1) Firstly, as the Smart Battery GPS Protector, it can:
Keep the start-up battery in"like-new"condition
Provide faster starts up your car or truck.
Extend battery lifespan up to 1~2 times as before if you install to your new battery
Reduce you battery recharge time
Increase aged battery capacity to ensure you to drive on the road without downtime
Increase your customer satisfaction because of your timely delivery without truck's roadside breakdown
2) Secondly, as the Truck GPS Tracker and Positioning Device, it can
Real-time positioning: year round,24 hours uninterrupted response
Have multi functions to meet customer needs, and be user's personal service steward
History Track: car report can show vehicle location and driving history routing
GEO fence ensures that the vehicle being locked in a specific range, the vehicle going out of / in this range will have alarm infomation
Historical trajectories reviews each section of the exclusive itinerary
Alarming Function: Vibration alarm; Cut off power alarm; Over speed alarm
Support: Google Map; Openstreet; Baidu Map
This revolutionary unit saves time, money and effort by reducing battery-related downtime, maintenance and replacement. Congratulations, you now finding out the most effective method available for ensuring battery reliability and low cost logistic management tools--the GPS version of Start-up Battery Protector special for logistic management.
APPLICATION:
It's used in 24V36Ah~300Ah lead-acid battery. It is special for start-up battery of vehicle or watercraft, as well as in solar energy storage battery and UPS back up power.
SPECIFICATION:
Operation Temperature: -20℃~70℃
Operation Current: 25~45mA
Peak Pulse Voltage: ≥1,5V
Impulse Frequency: 8,4KHz±10%
Over voltage alarm value: 29,8V ± 0,2V
Under voltage alarm value: 23,6V ± 0,2V
Network: GSM/GPRS
Network BAND: WCAMA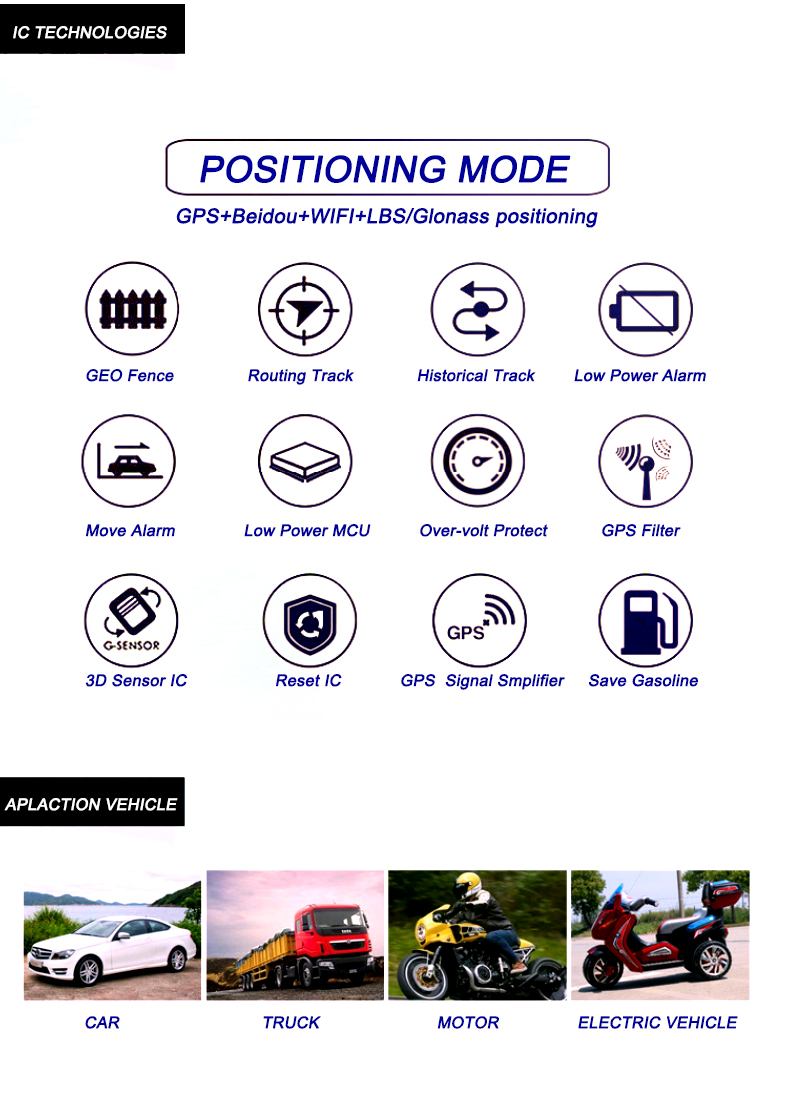 EASY INSTALLATION:
Choose a battery smooth surface with no heat, no overflow acid and not sealed, wipe out the dust and water vapor; tear off the double-sided adhesive protective film at the bottom of the Battery Smart Pulse Protector, press to the installation position,( 56624989,suggest to prepare glass-rubber or AB glue to make the protector bottom firmly adhesive). Loosen the fixed screw on battery pole, connect the black wire of protector to the negative(-) terminal of the battery, the red wire to the positive(+) (refer to the drawing below), and then tighten the screws of battery.
The protector automatically detects the working state of the battery after proper polarity connection. If everything is normal, the indicator light is green, there is no alarm sound. If the battery is in abnormal condition, issue the alarm tone as our instruction manual.

Looking for ideal Battery GPS Protector 24Volt Manufacturer & supplier ? We have a wide selection at great prices to help you get creative. All the Battery Protector 24Volt are quality guaranteed. We are China Origin Factory of Smart Battery GPS Protector. If you have any question, please feel free to contact us.
Product Categories : Battery Smart Pulse Protector > Start-up Battery Protector