Product Description
If you decide to buy and install this 12V Car Starter Battery Protector of 12V SBP300AH, It's better:
It is suggested that it`s better the Car Starter Battery Protector be installed when the new battery is purchased.
When the battery capacity drops sharply, the battery should be maintained or replaced before using the Car Starter Battery Desulfator. Otherwise it is possible noneffective and the Performance well below expectations,
For battery after 2-3 years` usage, in addition to the sulfuration, there will be phenomenon like plate aging, active material shedding, extremely high self-discharge. After installing this Car Battery Protector, it can still prevent further sulfuration of battery and extend battery life
This Car Starter Battery Protector is used in 12V36Ah~300Ah Car battery. It is designed specially for starter battery of vehicle or solar energy storage battery, UPS and Backup Power batteries, etc. Also we call it as the name of Start-up Battery Protector with a special waveform of intelligent pulse can help you to avoid that kind of battery sulfated and capacity decline early. Because it has the function of extending your starter battery service lifespan and early warning battery capacity shortage as a Car Starter Battery Protector.
Our team developed and patented a smart pulse desulphation technology that I believe revolutionized battery maintenance and recovery methods. As you will read, the application of this technology is kind of just as "doctors treat patients in hospital" to keep it healthy again or recover it as new battery for a longer time. Wide validation was approved by experts in various fields more than 20 years, by helping keep plates clean, the battery works harder than ever thought possible. It maintains a greater reserve capacity, will recharge faster and release more of its stored energy.
With more available energy, the 12V Car Battery Protector and Car Starter Battery Desulfator:
Keep the start-up battery in"like-new"condition to better your driving travel
Provide faster starts up your motor and other vehicle.
Extend battery lifespan up to 1~2 times as before, if you install to your new battery as soon as possible
Increase aged battery capacity or maintain your new battery SOH to ensure you driving on the road without downtime
Remind you in advance about battery SOH by the LED indicator
This revolutionary unit saves time, money and effort by reducing battery-related downtime, maintenance and replacement.
APPLICATION
It's used in 12V36Ah~300Ah lead-acid battery. It is special for start-up battery of vehicle or watercraft, as well as in solar energy storage battery and UPS back up power.
SPECIFICATION:
Operation Temperature:-20°C ~ 70°C
Operation Current:25 ~ 45 mA
Peak Pulse Voltage:≥1,2 V
Impulse Frequency: 8,40KHz ±10 %
Over voltage alarm value:15,00V ± 0,2 V
Under voltage alarm value: 11,80V ± 0,2 V
EASY INSTALLATION:

Choose a battery smooth surface with no heat, no overflow acid and not sealed, wipe out the dust and water vapor; tear off the double-sided adhesive protective film at the bottom of the Battery Smart Pulse Protector, press to the installation position,( suggest to prepare glass-rubber or AB glue to make the protector bottom firmly adhesive). Loosen the fixed screw on battery pole, connect the black wire of protector to the negative(-) terminal of the battery, the red wire to the positive(+) (refer to the drawing below), and then tighten the screws of battery.
The protector automatically detects the working state of the battery after proper polarity connection. If everything is normal, the indicator light is green, there is no alarm sound. If the battery is in abnormal condition, issue the alarm tone as our instruction manual.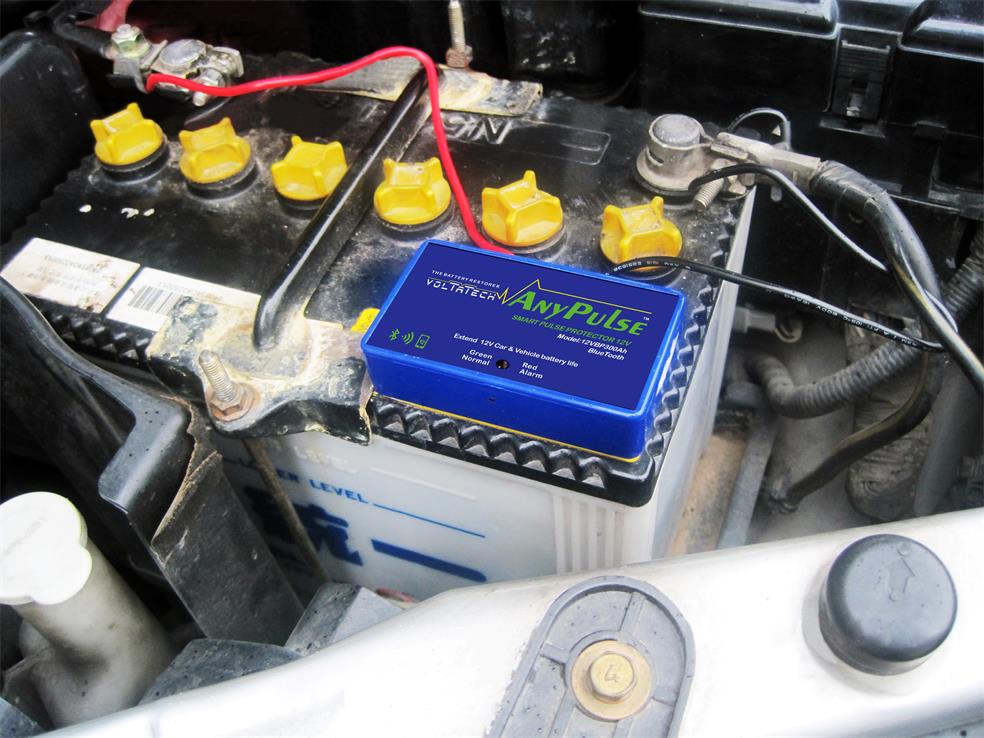 WARRANTY:
The Car start-up Battery Protector 12V SBP300AH identified herein is covered by a 2-YEAR warranty valid from the date of purchase. This warranty covers defects caused by faulty components or workmanship, including the labour required for repair in our authorized workshops.This warranty does not cover defects caused by incorrect installation, improper use or abuse. The existence of such causes shall be determined by our workshops technical services.
Looking for ideal Car Starter Battery Protector Manufacturer & supplier ? We have a wide selection at great prices to help you get creative. All the Car Battery Protector are quality guaranteed. We are China Origin Factory of Car Starter Battery Desulfator. If you have any question, please feel free to contact us.
Product Categories : Battery Smart Pulse Protector > Start-up Battery Protector