Product Description
Production Description
It is adopted our smart compound pulse charging technology, which has integrated design of high frequency desulfation pulse current. Ensuring your high efficiency and safety of charging. It has the technical function of automatic stop after full-charged, short circuit protection, reverse connection protection, temperature protection and overcharge protection. It adopts the most advanced patented high frequency pulse desulfation repair technology, which has the characteristics of simultaneous recharge and repair battery. Eliminating charge polarization voltage, increasing battery capacity and prolonging battery life are essential tools for your electric vehicles.
Technical Spec.
Input:AC220V ±10%,50/60Hz
Scope:Applied for 60V20Ah lead acid battery banks
1) Charging Spec:
Constant Current stage: 2.5A±0.2
Constant Voltage stage: 73.5V±0.4
Led Change Current: 0.50A±0.03
Floating Charge stage: 68.8V±0.4
2) Desulfation Spec:
Pulse Current:0.03A~0.06A
Current Peak:>5A
Negative Cur Peak:>2A
Pulse Fre:8.3kHz±10%
Ambient Temp:0°C-40°C
3) Other Spec
Temperature Protection:85°C±5°C
Overcharged Time protection:3h±10%
Charging Mode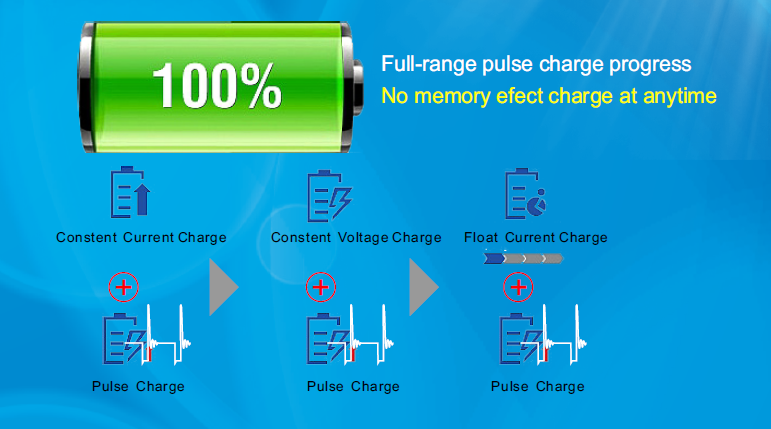 Charging Desulfated:

During the recharging process, high frequency desulfation pulse is output to the battery, which can break the coarse sulfate crystal of the battery plates, improve the electrochemical activity of the battery and restore its capacity.

Charging voltage depolarized:

During the recharging process, the output desulfation pulse has a negative pulse, which can effectively eliminate the polarization voltage in the charging link, increase the battery charging tolerance, accelerate the charging speed and improve the charging effect.

Pulse Maintenance:

When full or non-charged, it has pulse maintenance function, which can prevent battery re-sulfation and delay the battery aging.

Prevent sulfation and support discontinuous charge:

full-range pulse charging can effectively prevent lead sulfate from rebuilding, short-term sulfation caused by undercharge or short-term battery charged due to emergency situation. The capacity can be restored after continuous pulse charging cycle.
Technical Function
1)Pulse maintain for battery lifespan extension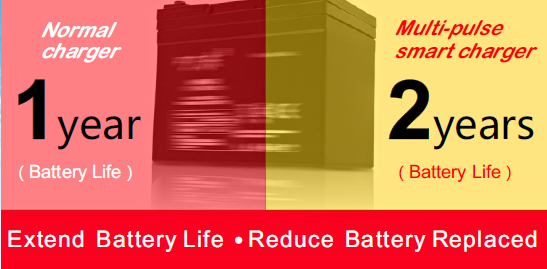 2)Increase drive mileage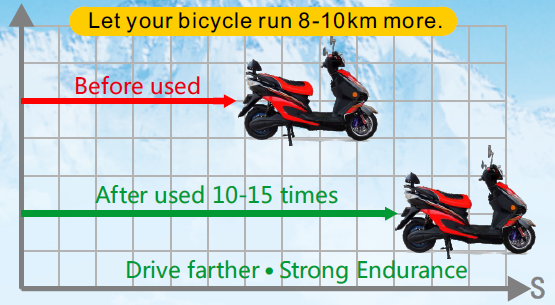 3)Full-range Pulse Charging Maintenance
Positive pulse eliminating sulfide crystallization; Negative pulse eliminating polarization voltage; Preventing water loss and gas evolution; Real-time control of battery charging temperature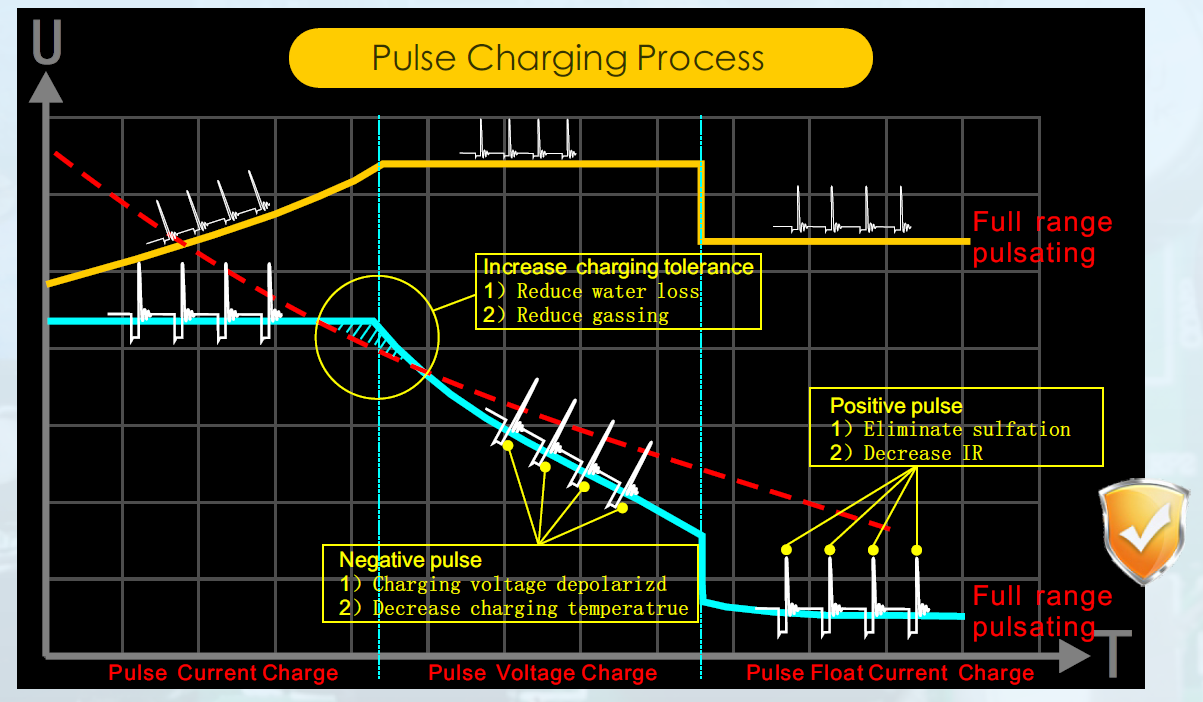 Has positive and negative pulses, continuously smart adjust, eliminate sulfated crystals of EV batteries, so that the plate always maintains a "clean" state, improve battery capacity, then prolong battery life.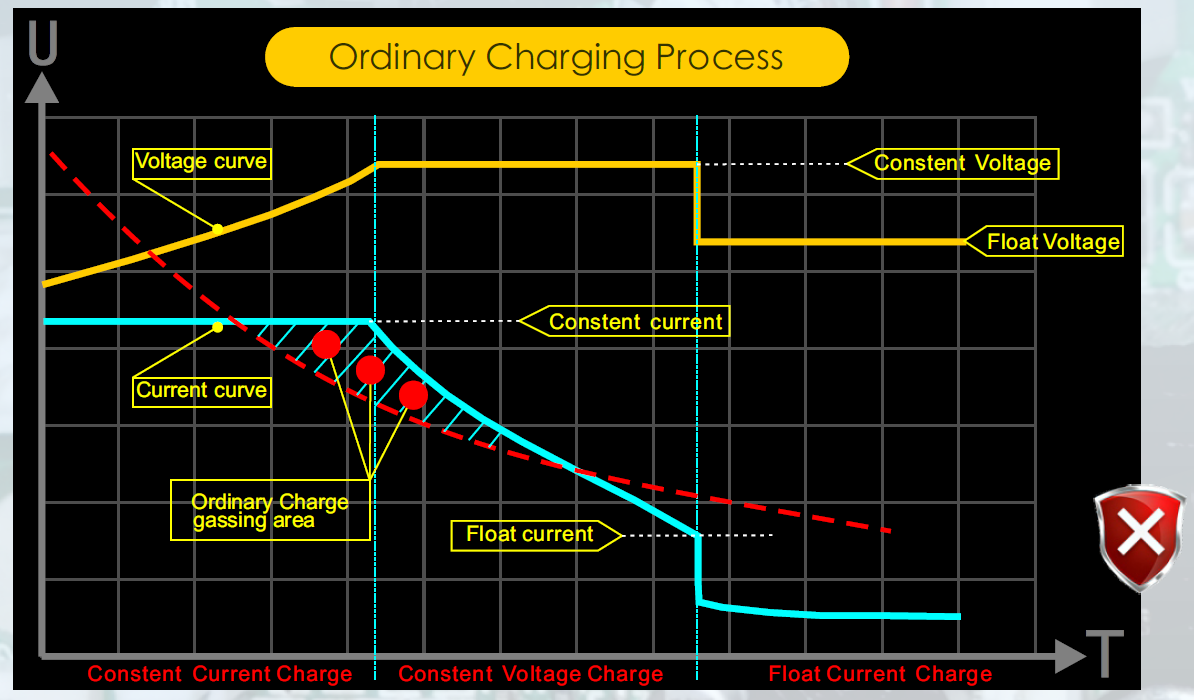 Usually,most of chargers on the market increase the charging current, resulting in water lost during charging and the deformation of charging bulging, leading to scrap
4)Resonance pulse, Non-damaged Repairing Battery and Cells balance of battery charging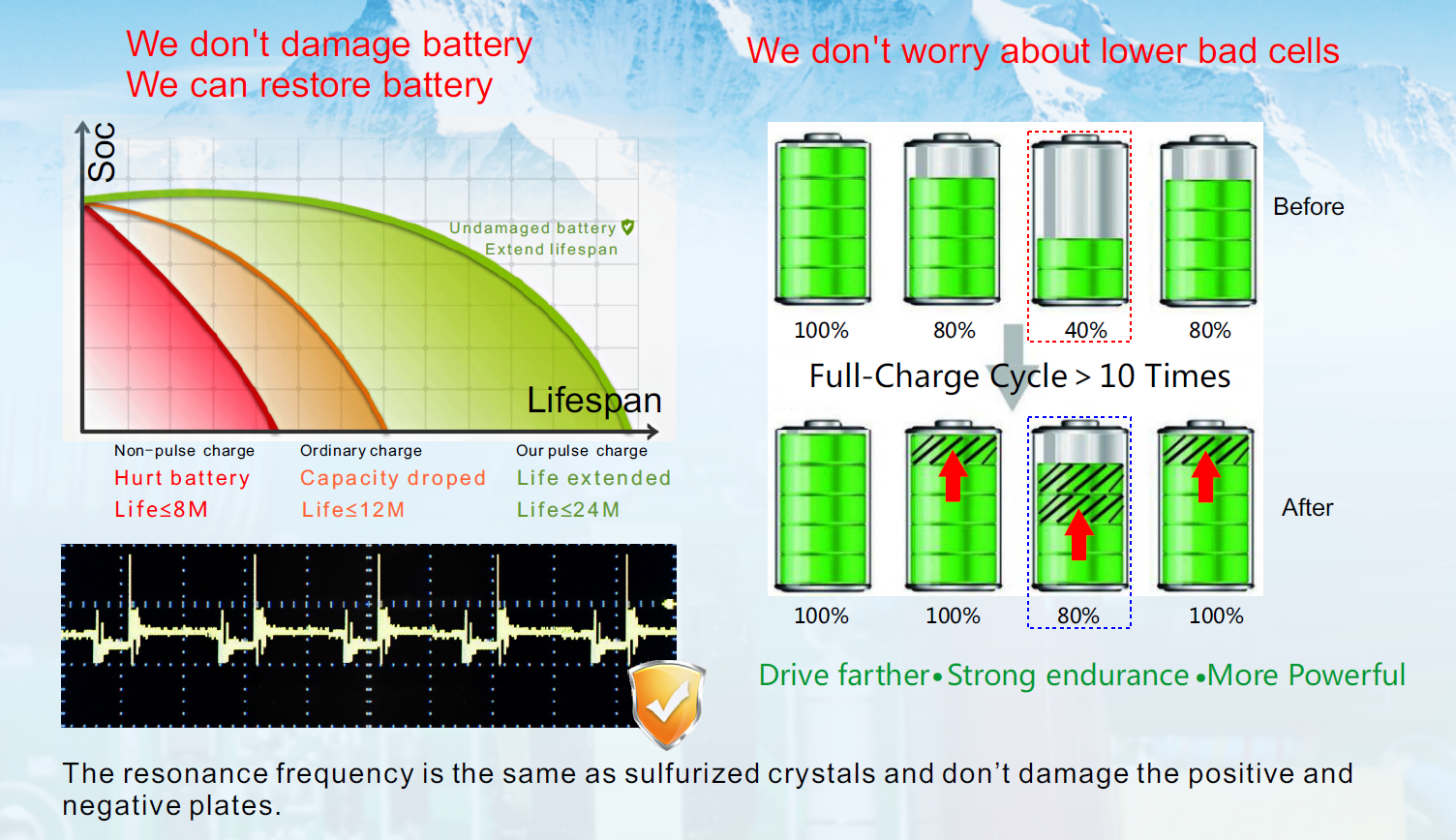 5)Safety Function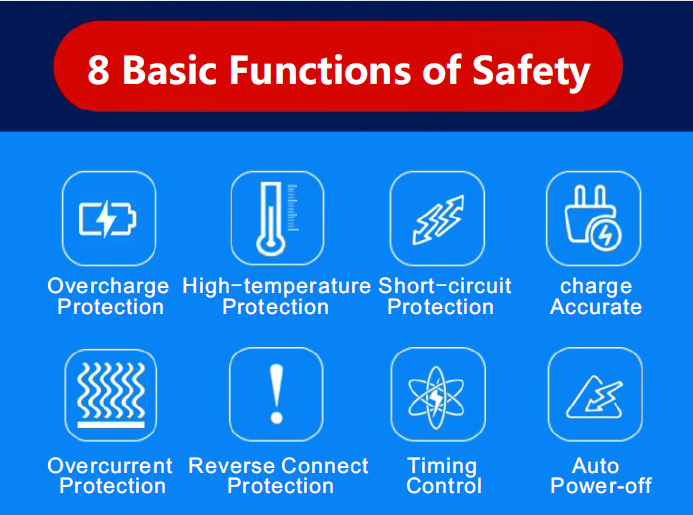 Production details
1)Super silent charging , Fan much more durable .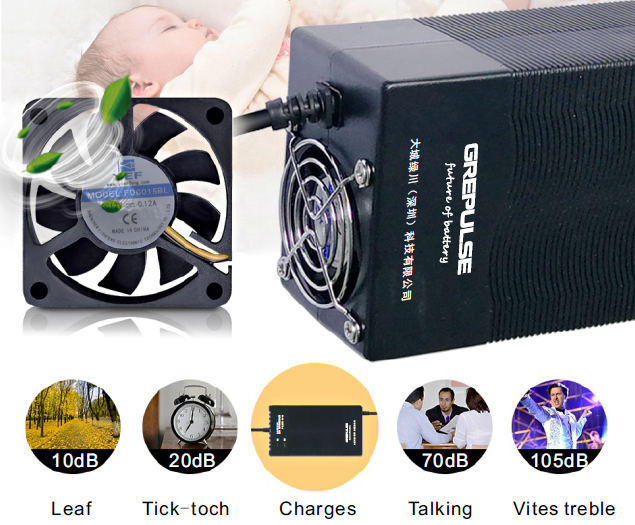 .
2)Reliable wires and interfaces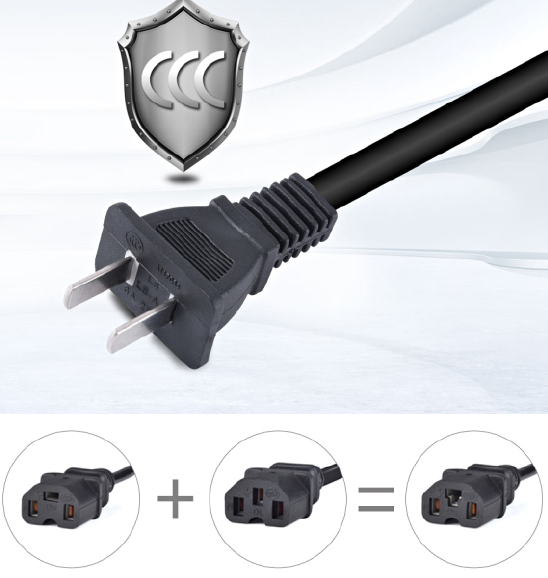 Charging Tips
Battery nominal capacity is based on 25℃. For every drop 1℃, battery capacity decreases by 1%. Driving mileage in winter is about 50% of that in summer. In winter, the battery deep cycle capacity is lower, the electrolyte viscosity increases, the chemical reaction resistance increases, and the charging time shortens (below 5 ℃, charging 70% only). Charging 60-70% and discharging 50-60% reduce the mileage naturally. In winter, mileage calculation (70% charging * 60% discharging equals 50% as mileage in summer). Suggestions that charging your battery indoor (charging whenever you ride a bicycle)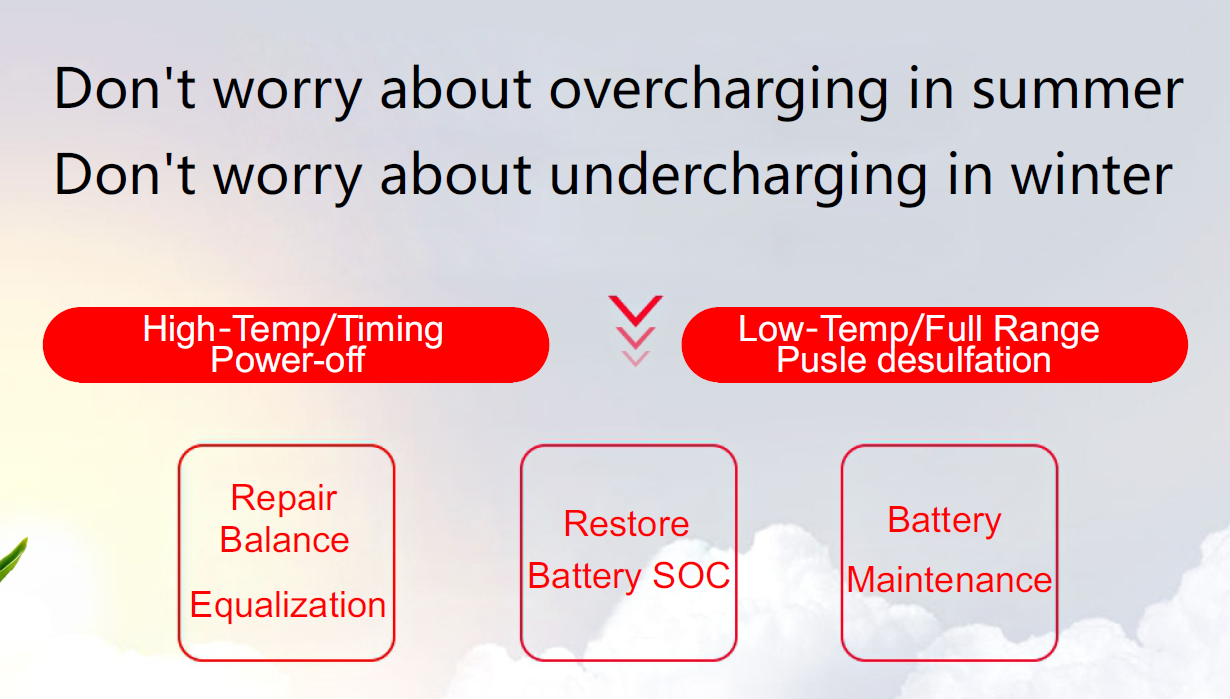 Testing and Verification data
Testing data comparing table of battery pulse desulfation repaired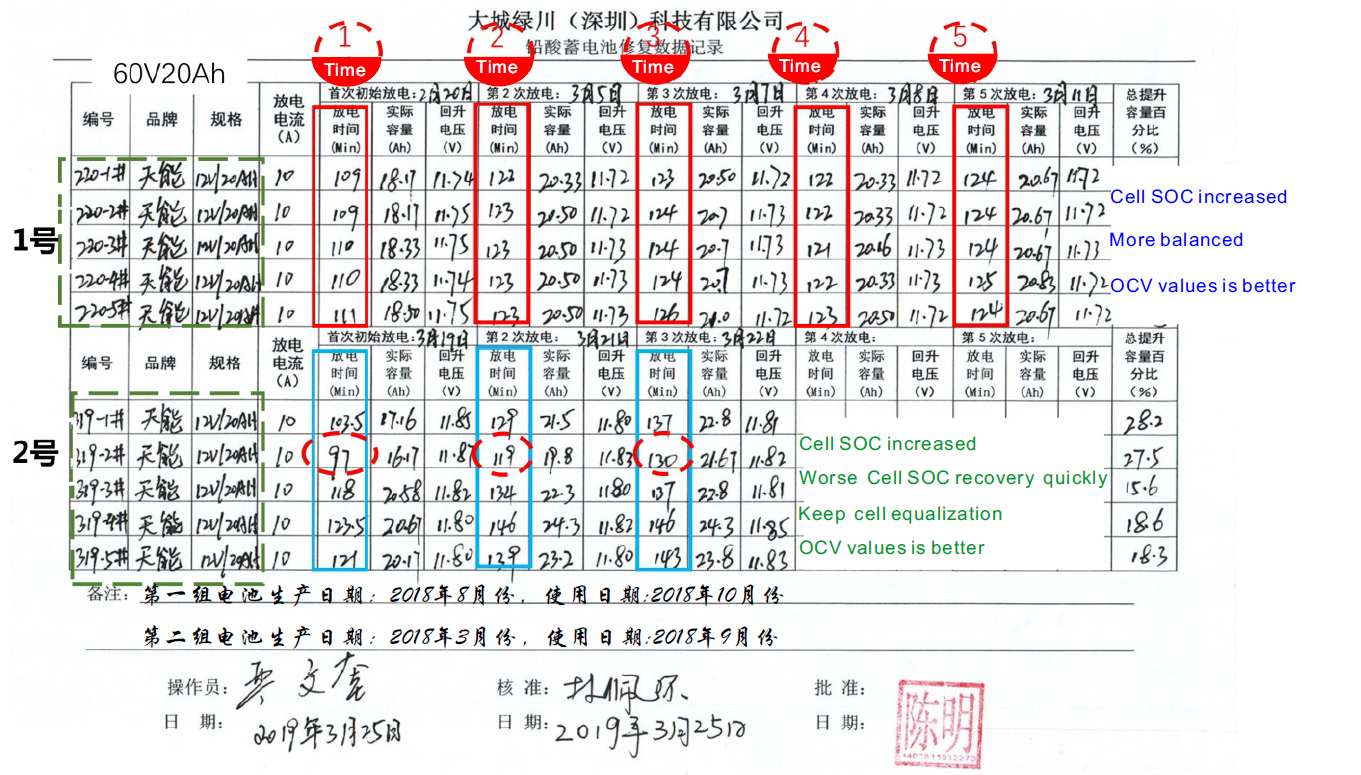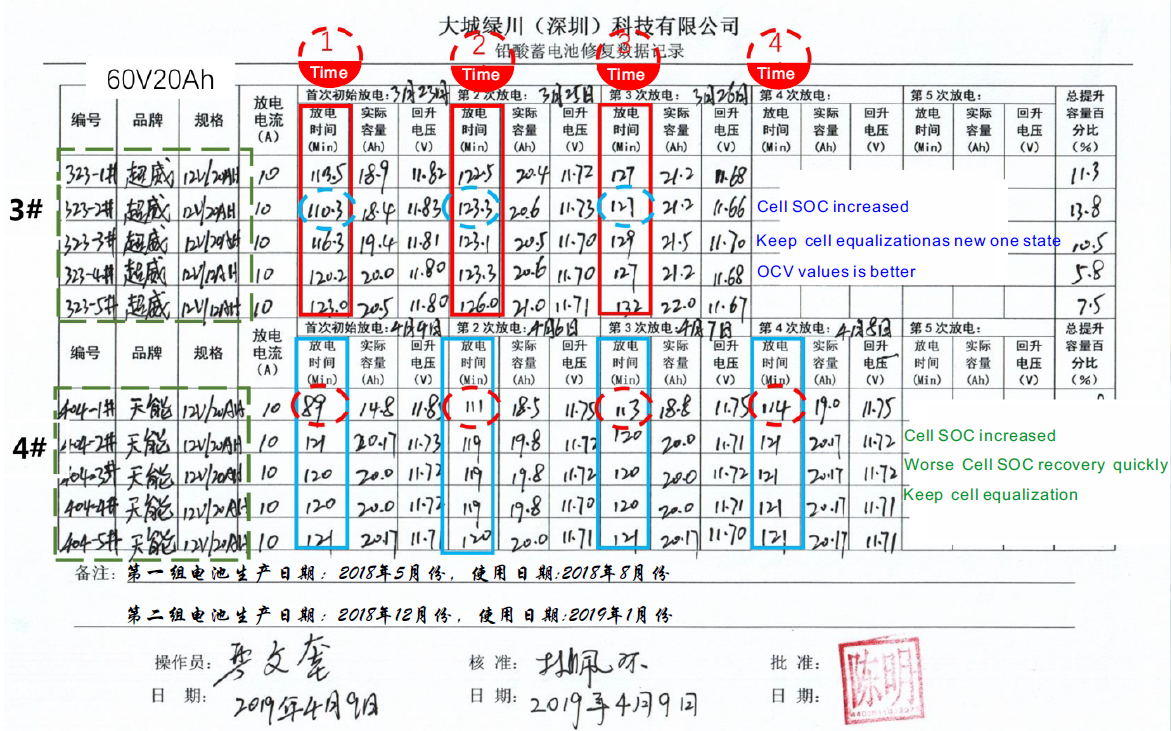 Looking for ideal
Smart Battery Charger
Manufacturer & supplier ? We have a wide selection at great prices to help you get creative. All the Smart Pulse Charger are quality guaranteed. We are China Origin Factory of Battery Maintaining Charger. If you have any question, please feel free to contact us.
Product Categories : Battery Smart Pulse Charging Restorer > EV Battery Charging Restorer