Product Description
WARRANTY:
The Electric Vehicle Battery Equalizer identified herein is covered by a 2-YEAR warranty valid from the date of purchase. This warranty covers defects caused by faulty components or workmanship, including the labour required for repair in our authorized workshops.This warranty does not cover defects caused by incorrect installation, improper use or abuse. The existence of such causes shall be determined by our workshops technical services.
To increase battery capacity and voltage of a EV's power system, cells have to be connected in series or in parallels. Due to unequal self-discharge and physical variations of the battery cells as different as it was made in factory, the SOC of the cells will differ sooner or later in the following no matter whether it used or not. Therefore, the discharge process has to be stopped when one weakest cell has reached its minimum voltage and the energy in the other cells is waste. The utilizable energy of a series circuit is limited by the weakest cell in the pack. To completely discharge all cells, weaker cells must be recharged. This process is called cell unbalanced or cell unequalized, which will cause the higher voltage cells seriously dehydrated, and the lower voltage cell is in a state of under-charged.
Our 60V eBike Battery Equalizer with Pulse Protect, It's a very important member Battery Equalizer Tools in our Battery Smart Pulse Protector family:
It is designed specially for Electric Vehicle Power battery, which it packed in series by 5 PCS 12V20Ah~300Ah cells. The Battery Equalizer Booster with smart pulse is installed onto battery bank in everyday's driving, that is the meaning of What the equalizer on line.
Balance Battery Capacity: Keeping all the batteries in your electric vehicles equalized allows them to be completely charged and to give off a completely discharged.
Make to give you a longer traveling distance and better experience.
By adding our smart pulse equalizer to your vehicle power battery bank, the cell batteries are desulfated and equalized on a consistent basis so they will always be in as new ones.
With its lower IR value of batteries, there is less wear and tear when vehicles starting and being speed up. The total electrical power system benefits as the batteries are equal as in like new conditions duo to everyday's battery care
In recent years, with more and more rigorous environmental policies and requirements, as well as rapid development of logistics express business, the more electric tricycles and electric motorcycles are rapidly replacing fuel motorcycles and other means of vehicles. Batteries are their soul and core components of EV, their design lifespan is nominated about 2~3 years, but actually the battery is usually premature failure less than 12 months used without Battery Care of Battery Saver or Battery Repaired periodically.
APPLICATION:
It's used in 60V20Ah~300Ah Electric Vehicle Power battery.
It is not suitable for EV battery banks with cell deformed appearance, positive plate softening and corrosion, active material shedding, short circuit, open circuit.
SPECIFICATION:
Operation Temperature: -20℃~70℃
Equalization Current: 3,00 A
Equalization Accuracy: ±0,01 V
Temperature Protection: 70℃
Over Voltage Protection Value: Anyone Cell Voltage ≥14,8V ± 50mV
Under Voltage Protection Value: All Cell Voltage ≤10,5V ± 50mV
Storage Environment Temperature: -40℃~70℃
Relative Humidity of Environment: 45% ~90%RH
EASY INSTALLATION: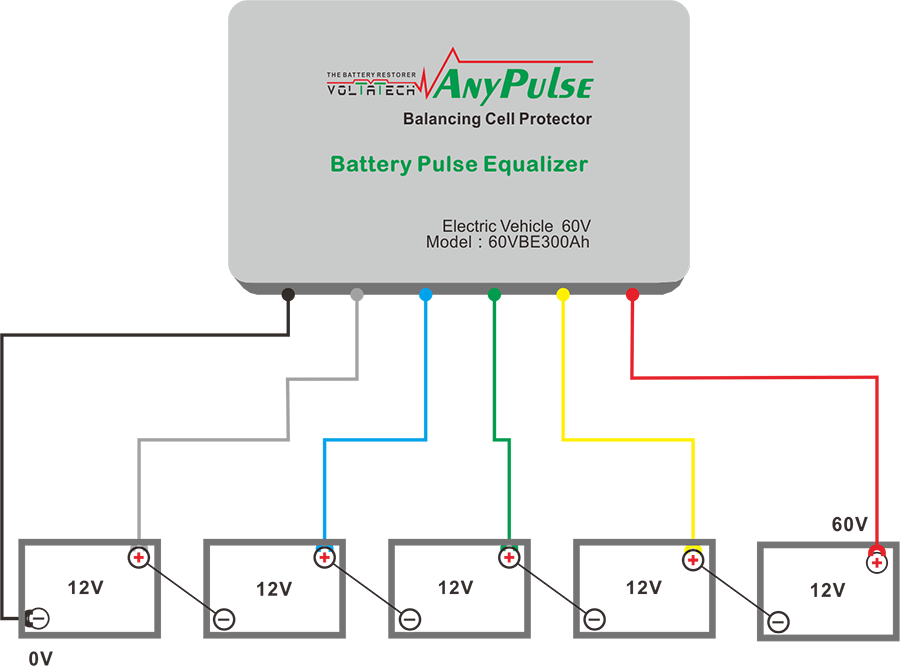 Looking for ideal What the Equalizer on Line Manufacturer & supplier ? We have a wide selection at great prices to help you get creative. All the Battery Equalizer Tools are quality guaranteed. We are China Origin Factory of Battery Equalizer Booster. If you have any question, please feel free to contact us.
Product Categories : Battery Smart Pulse Protector > Electric Vehicle Battery Equalizer