VoltaTech's patented
Composite resonant pulse technology
is the best in the world , Through intelligent pulse being resonant with sulfated crystals, restore battery vitality, and
prolong the service lifespan
of the battery without any damage to the battery physical structure and plates.
Battery Smart Pulse Restore
System fully take into account the inconsistent of the
physical resonance frequency
between lead sulfate crystal and battery plates, select the optimal frequency of pulse waveform and pulse current intensity to "break" and "decompose" the lead sulfate crystals, ensure the best restoration effect of sulfide battery without any damage to the plates.
Off-line
Battery Smart Pulse Restore
System also be called
Battery Pulse Rejuvenator
or
Battery Life Saver
: mainly used in the whole industry of
electric forklift
industry,
Logistics, Sightseeing car, Golf Cart
, Marine applications,
wind and solar energy storage
applications,
UPS Back up power
system,
Telecom base site
,
State Grid and Military battery
for Sudden affair,
Deep cycle and Stationary battery
etc.
The system is composed of 3 parts and a professional standard restore process: 1) Restorer Device; 2) Digital Pulse Charger; 3) Discharge of Capacity Tester. Lead-Acid Battery Restoration system and Solution is applicable to all of Lead Acid Battery(AGM, GEL, VRLA, MF, Flooded, Dry, Traction, Deep cycle and Stationary), and widely used in 2V(200~3000Ah)/6V12V(4.5~300Ah) cell batteries.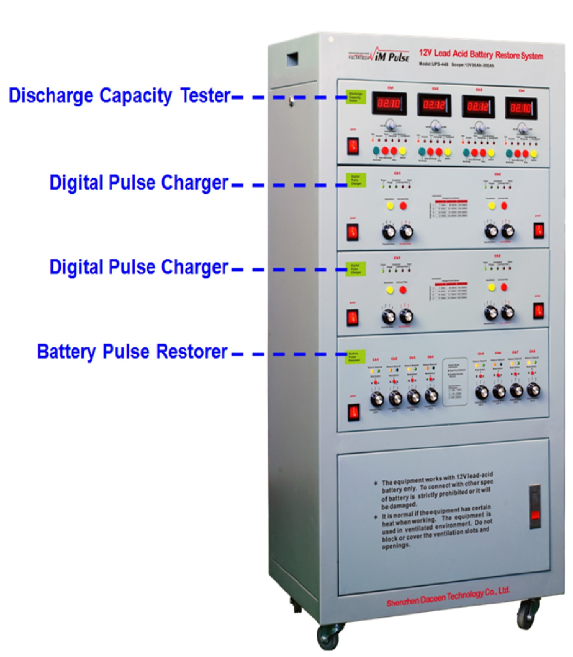 As we know, the improperly use or maintenance of batteries is the most important reasons of the lead-acid
battery sulfation
and failure. Therefore, repair lead-acid battery is a systems engineering, which requires the use of specialized equipment for regular restore battery, also need professional maintenance to remove sulfation circularly and regularly based on the size and condition of the individual battery
We committed to providing the lead-acid
battery pulse restore system
and solution for users, including: off-line repair and restore device, professional routine maintenance, and on-line
Battery Protector System
.