Plate non-damaged desulfator
with
Smart pulse
,Simple and Safe,Save your money, time and worry.
Most of
Electric vehicle
use lead-acid battery bank(12V /6V /8V cells packed in Series)as the power source. The design lifespan of battery is 2~3 years, but actually the battery is usually failure after 6~12 months used which
State-Of-Capacity
gradually decline and even some scraped. Through analysis by cutting a large number of failure batteries, the
battery water loss
and
sulfation
is quite prominent. Such as the phenomenon of
battery sulfation
and
dehydration
can be effectively inhibited to
prolong the service life
greatly up to 2 times.
Battery Smart Pulse Charging Restorer
is a new generation of high-tech products developed specifically for restoring
Electric vehicle battery
and
UPS power system
when it is charging every time, it utilizes the energy from the charger, generating
electronic smart pulse
with
special frequency
to be
resonance
with the thick lead
sulfate crystals
in
battery charging process
. Under the disturbance by the specific
frequency pulse
, the
recrystallization
of lead sulfate can be prevented effectively.
Battery Charger And Restorer 2-in-1
is a
multiple-stage charger
with
smart pulse maintenance
ability.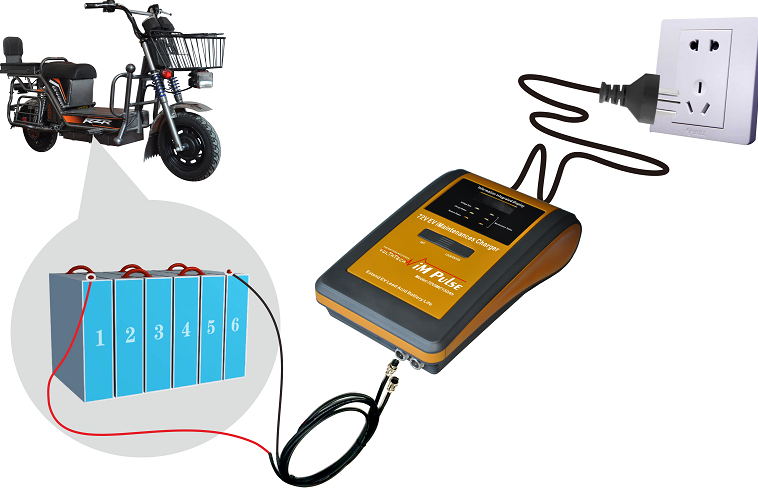 This innovative, state-of-the-art
battery restorer
smartly knows how to restore battery in
charging process,
Unlike other common chargers on the market, you don't need to select the battery type. It works smartly on any type of 12/24/36/48/60/72-Volt lead-acid battery –
VRLA, AGM
and
flooded
. Proprietary algorithms combined with microprocessor & IC controlled technology measure the
battery's voltage and current
to automatically determine and deliver the precise pulse frequency and duty cycle based on the size and condition of the individual battery.
It is more than a common pulse
charger and desulfator
. During the restorative battery charging cycle, VoltaTech's patented,
optimized frequency pulsing
and
smartly changeable duty cycle
constantly work to minimize and
reduce battery sulfation
and
internal resistance
. By reducing the size and number of lead sulfate deposits on the battery plates- the No.1 cause of battery failures,
increase capacity
and release energy to keep battery in new conditions, your battery will
charge deeper
,
maintain greater reserve capacity
and last longer service lifespan– up to 2 times longer.