Product Description
As you will read, this 60V150Ah Battery Smart Charger for electric bicycle or tricycle is a multi-functional charging maintenance system developed by us based on our multi-year research results used for power battery of electric vehicles. It is applicable to digital pulse charging, non-destructive repair and pulse maintenance desulfation of all types of lead batteries in 48V/10Ah~150Ah or 60V/10Ah~150Ah. As integrated the above battery care function with smart pulse of adjustable wave width, it is also called as Battery Desulfation Smart Charger or Smart Battery Saver of Electric Tricycle Battery Repair Tools.
TECHNICAL FEATURES
Adopt multi-stage constant current pulse charging mode. When starting charging, it charges the power battery quickly through a large duty cycle, and when the charging battery voltage is close to producing gas stage, smartly reduce the pulse charging current stepwise gradually.
Each charging pulse is followed by a depolarizing pulse of 1~3 times the charging current, to ensure elimination of polarization voltage and cooling battery plates, so as to improve capability of charge acceptance.
Adopt temperature compensation function. Calculate the gas-produced voltage point of VRLA battery based on the ambient temperature tested by temperature sensor; at the same time, analyze gas-produced voltage and make dual judgment through the raise of dv/dt not affected by temperature, which effectively solves the battery sulphation caused by low temperature undercharged as well as water loss and thermal runaway caused by high temperature overcharged.
In each charging pulse, special battery repair pulse is added to restrain sulphation of lead-acid battery; harmonic components of this pulse resonate with the lead sulfate large crystalline molecule on the battery plate and destroy the condition for forming lead sulfate large crystalline, it also has the function of breaking the lead sulfate large crystalline.
Automatically detect connection of the charged battery. The charging switch is not started when the battery is not connected, in order to avoid electrical erosion of the battery plug and damage due to accidental short-circuit output.
Automatically identify 48V/60V battery voltage and shift the output polarities of the charger. It can adapt to all the popular electric tricycles on the market.
Indicate battery voltage, and various charging and repair states by LED.
Have the function of battery desulfation. Produce special battery desulfation pulse, automatically repair the batteries exceeding the storage term in the processes of circulation, storage and transportation and use, and recover chargeability of the batteries with sulfation failure.
Embedded smart battery management chip. Users can know the battery status according to the capacity.
SPECIFICATION AND TECHNICALITIES
Input AC Voltage: AC176V~AC264V/50~60Hz
Pulse peak current:≤5A
Depolarized peak pulse: ≥6A
1) Normal Charging Mode
False constant voltage: 2,35V/ Cell(25°C)
False floating charge voltage: 2,25V/Cell (25°C)
Temperature compensation coefficient: -4mV/°C/Cell
2) Equalization Charging Mode
False constant voltage: 2,45V/ Cell(25°C)
False floating charge voltage: 2,30V/Cell (25°C)
Temperature compensation coefficient: -4mV/°C/Cell
3) Pulse Battery Repair Mode
Pulse Maintenance Current: ≤1A(Average Value)
Pulse Frequency: 8,40kHz±20%
Wave Rise Time: ≤4uS
4) Pulse Maintenance Mode
Pulse Maintenance Current: ≤0.15A(Average Value)
Pulse Frequency: 8,40kHz

±20%

Wave Rise Time: ≤200nS
EASY INSTALLATION & CONNECTION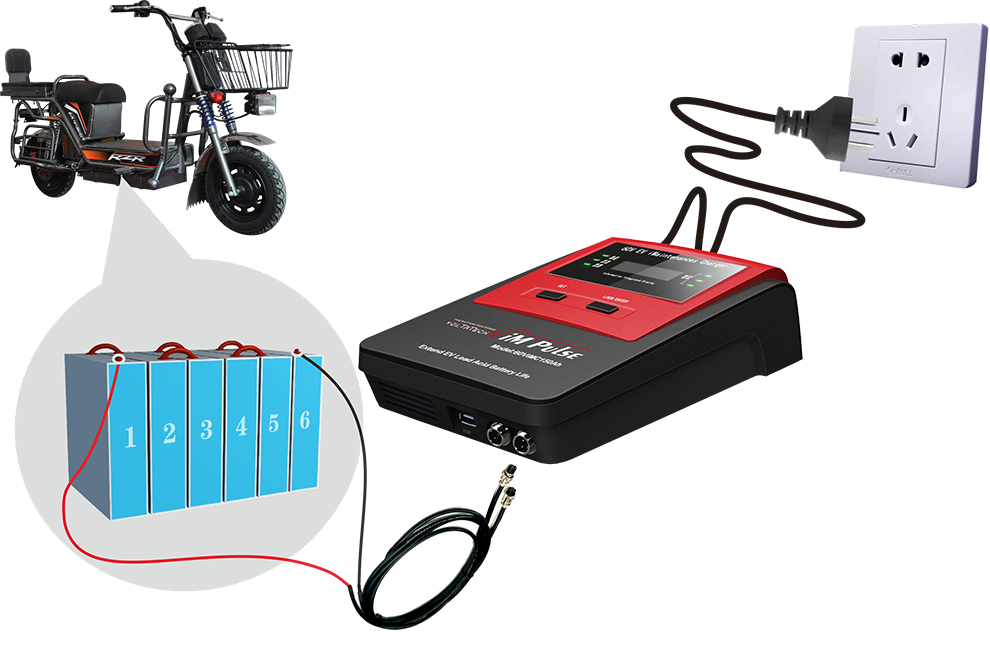 Looking for ideal Electric Motorcycle Battery Repair Manufacturer & supplier ? We have a wide selection at great prices to help you get creative. All the Battery Desulphation Smart Charger are quality guaranteed. We are China Origin Factory of Battery Care of Battery Life Saver. If you have any question, please feel free to contact us.
Product Categories : Battery Smart Pulse Charging Restorer > Battery Charger And Restorer 2-in-1