Product Description
Batteries floating charged in this unbalancing way for a long time without our 12V On line Battery Protective System or On line Battery Equalizer, that will cause the higher voltage cells seriously dehydrated, and the lower voltage cell is in a state of under-charged. This way of vicious spiral formed will accelerate the base site batteries premature sulfation and early failure. This 12V Telecom Base Site On line Smart Battery Protector System set a equalized charging function. If the terminal floating voltage of the battery system is higher than the standard value of protector system designed, the system automatically and smartly switches to the over-voltage balanced working state. When the voltage drops lower than standard value, it automatically changes to On line Battery Protective System state. The decrease of battery IR and the improvement of the battery equalization lead to the battery life extension doubled or more.
It is well known that Telecom service providers have designed the traditional wire-line telecom and wireless network systems for high service availability, its reliability depends on the availability of power from the stationary battery bank in base sites and UPS system standby in operation office. But there must be individual differences in state-of-capacity (SOC) and internal resistance(IR) Value of batteries after used for a certain number of years even if common Battery Care Program is carried out. It is called the battery un-equalization. Due to the total floating charge voltage of the rectifier remains unchanged and keeps constant, when the battery pack is always in floating charging status, the floating voltage of the cells with larger IR will be higher than that of the normal battery, resulting in the normal battery's floating voltage is lower.
iBPS-1202 is the On line Battery Life Saver system for 48V battery pack in series by 4PCS 12V cells. It is working as a new generation of high-tech products for daily battery maintenance and battery equalization in sites or other stationary power system.
12V Telecom Base Site Battery Protect System, it is designed for the charging maintenance and life extension of new batteries in Telecommunication base sites, or used after our Off-line Battery Smart Pulse Repair System restored. We also call it as well as Battery Smart Pulse Maintainer for its:
The long-term work in parallel at the battery, the sulfated crystals can be effectively removed, and prevent the new sulphation buildup. The battery capacity is significantly maintained as new one for long time.
MCU ( Micro-controller Unit) design, Constantly scanning the battery terminal voltage and reasonable output digital intelligent resonance pulse.
Built-in 8 bit precise A/D converting circuit to real-time monitor battery voltage, according to the change of cells terminal voltage value, smartly and automatically switch in 3 working states of under-voltage shutdown protection, cells equalized and optimized charging maintenance and pulse maintenance work
The decrease of cells internal resistance, improve the cells capacity consistency of the series battery bank
Without any damage on charging equipment and battery plates
Has the function of over-current protection, even inadvertently reverse polarity will not damage their own instruments
Also has voltage detection and equalization circuit, can significantly improve the equalization of cell voltage and capacity
APPLICABLE SCOPE:
It is used for 48V/36AH-300AH battery bank series by 4 PCS 12V/36AH-300AH Lead Acid Cells.
IMPORTANT CLAUSE:
It is only used for the Maintenance and Life extension of new batteries in Telecom Base site, or used after repaired by our off-line Battery Repair System.
Prohibit the use of aged batteries in the absence of being repaired. Once the violation, it may not reach your expectations.
ENVIRONMENT CONDITIONS:
The ambient temperature: -10℃~50℃
The storage temperature: -40℃~70℃
The relative humidity of the environment: 45%~90%
The atmospheric pressure: 86-106mpa
ELECTRICAL PARAMETERS (Pulse Maintenance Status)
The maximum current:≤400mA
The maximum power consumption:≤11,5w
The pulse frequency: 8,4kHz±20%
The working voltage range: 21,0V±0.2V~30,0V±0,2V
The pulse peak current:≥3,0A(no sense of sampling resistance test)
The maximum pressure: 40V
WARRANTY:2 Years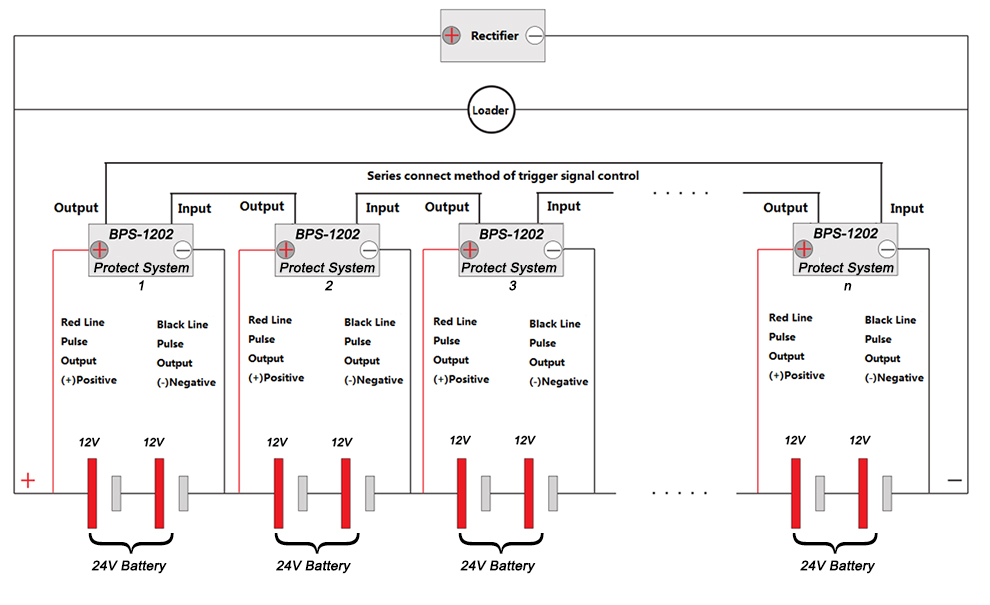 Looking for ideal On Line Smart Battery Protector Manufacturer & supplier ? We have a wide selection at great prices to help you get creative. All the On Line Battery Equalizer are quality guaranteed. We are China Origin Factory of On Line Battery Life Saver. If you have any question, please feel free to contact us.
Product Categories : Battery Smart Pulse Protector > Base Site Battery Protector System