Product Description
Our 12V Cell Battery Charger of 12VC iM Pulse 300Ah is a state-of-the-art Cell Battery Smart Charger, also we can call it Cell Battery Maintenance Charger with desulpation pulse which automatically knows what to do. Unlike other popular common chargers we could see on the market, you don't need to select the battery type or the proper charge current rate for your battery. This Cell Battery Digital Charger is smartly measure the battery's voltage and current to automatically determine and deliver the precise charge rate based on the size and condition of the individual battery. As the role of Battery Smart Optimizer its optimized pulsing waveform constantly works to minimize and reduce naturally occurring battery sulfation which can maintain the battery at peak conditions. This is a perfect multi-functional and multistage charger that you have to choose. It is a very important member of our 12V Battery Restore System in Off line Battery Repair System family.
The congenital weaknesses of lead-acid battery such as short service life, low energy conversion efficiency and low specific energy were never solved, especially the environmental pollution caused by waste batteries has always bothered the personnel of the industry and environmental protection departments, and solving the pollution problem of lead-acid batteries has become a worldwide focus. To prolong the service life of lead-acid batteries and recover the early failure battery capacity, the experts in the industry have done a lot of research work in recent years. The traditional methods of maintaining batteries are high current charging technology and adding chemical liquids to activate batteries, which have greater applications risks and result in environmental pollution.
At present, the professional users such as troops, battery factory and electric forklift company are equipped with charging equipment to maintain and charge batteries regularly, but the traditional periodic charging and maintenance is time-consuming, laborious, backward in means, low in automation, poor in desulfation effect and can not guarantee the reliability and emergency capability of batteries. This is not only a problem of equipment consumption and economic benefits, but also influences the implementation of power system operation;
APPLICATIONS:
All of Lead Acid Cell Capacity from 12V20Ah~200Ah(AGM, GEL, VRLA, Flooded, Traction, Deep cycle and Stationary).
TECHNICAL CHARACTERISTICS
Adopt multi-stage constant current pulse charging mode. When starting charging, it charges the power battery quickly through a large duty cycle, and when the charging battery voltage is close to producing gas stage, smartly reduce the pulse charging current step-wise gradually.
Each charging pulse is followed by a depolarizing pulse of 1~3 times the charging current, to ensure elimination of polarization voltage and cooling battery plates, so as to improve capability of charge acceptance
Adopt temperature compensation function. Calculate the gas-produced voltage point of VRLA battery based on the ambient temperature tested by temperature sensor; at the same time, analyze gas-produced voltage and make dual judgment through the raise of dv/dt not affected by temperature, which effectively solves the battery sulphation caused by low temperature undercharged as well as water loss and thermal runaway caused by high temperature overcharged.
In each charging pulse, special battery repair pulse is added to restrain sulphation of lead-acid battery; harmonic components of this pulse resonate with the lead sulfate large crystalline molecule on the battery plate and destroy the condition for forming lead sulfate large crystalline, it also has the function of breaking the lead sulfate large crystalline.
Automatically detect connection of the charged battery. The charging switch is not started when the battery is not connected, in order to avoid electrical erosion of the battery plug and damage due to accidental short-circuit output.

Produce special battery desulfation pulse, automatically repair the batteries exceeding the storage term in the processes of circulation, recover chargeability of the batteries with sulfation failure.

Embedded smart battery management chip. Users can know the battery status according to the capacity.
TECHNICAL PARAMETERS
Synchronously Charge Battery Qty: 1 PCS Cells
Total Charge Cycle time: Base on cell capactiy
Input Voltage(V): AC198~240V/50~60Hz
Peak Pulse Charging Current: 5A;10A;20A(±10%)
Peak Pulse Voltage: ≤18V
Duty Ratio Range: 5~95%(Smart)
Maxium Power: 0.35kW
Nominal voltage temperature coefficient: -24mV/+1℃
Pseudo constant charge Volt: 14.1V(25℃)
Pseudo floating charge Volt: 13.5V(25℃)
THE SKETCH MAP OF CONNECTION METHODS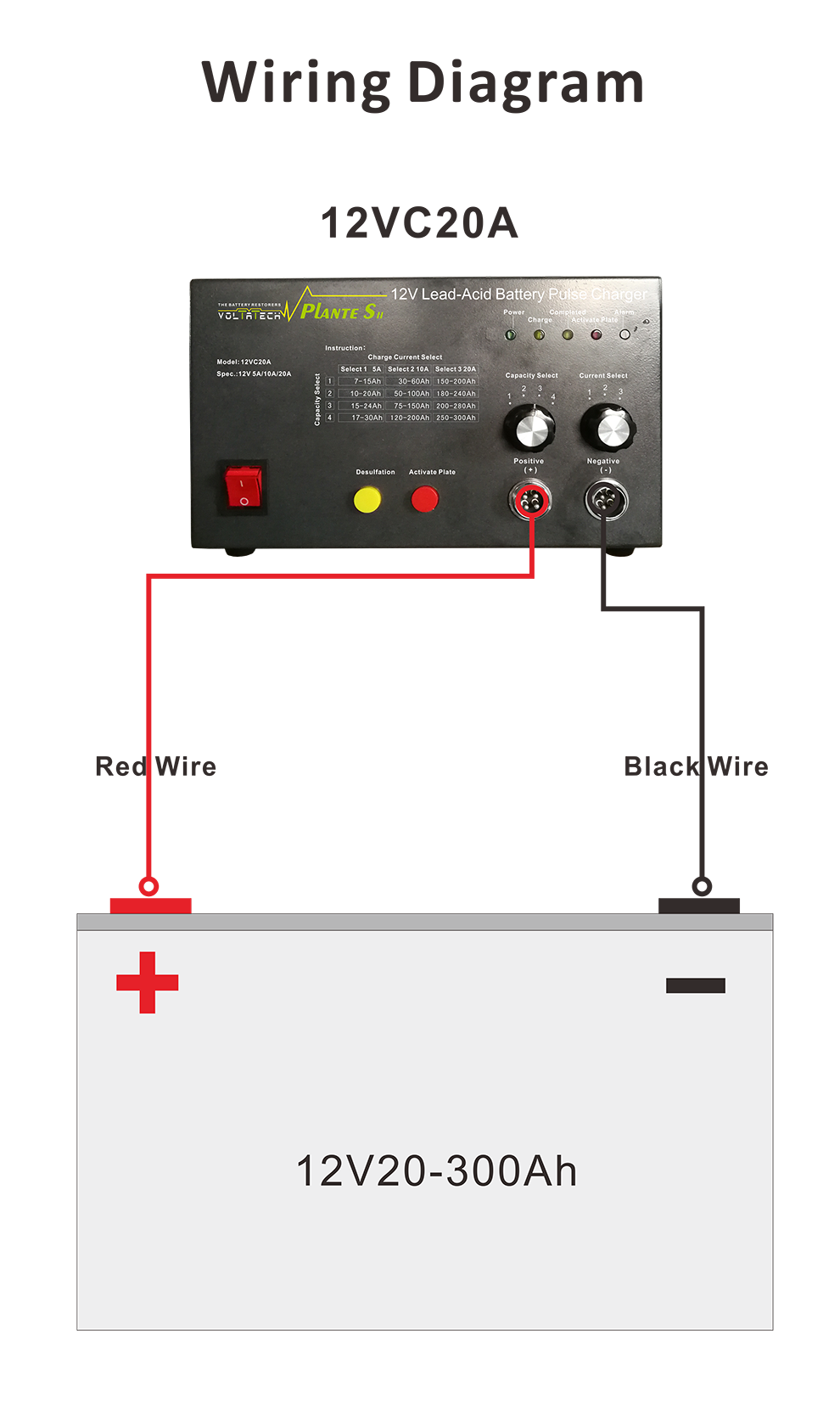 Warranty:2 Years,Detailed information you can see from Production Manuel Introductions
Looking for ideal Cell Battery Digital Charger Manufacturer & supplier ? We have a wide selection at great prices to help you get creative. All the Cell Battery Smart Charger are quality guaranteed. We are China Origin Factory of Cell Battery Maintenance Charger. If you have any question, please feel free to contact us.
Product Categories : Battery Smart Pulse Restore System > 12V Battery Restore System