Product Description
With the rapid development of battery science and technology, the variety of lead-acid batteries is increasing, the performance is improving constantly and the application field is also expanding. In the field of energy-storage battery, the application of lead-carbon batteries is gradually expanding. Meanwhile, the battery repair technology and pulse maintenance technology of our company are also developing rapidly, which can still solve the repair and maintenance problem of lead-carbon batteries.
Our technology is the forerunner of the recovery technical innovation and development. As early as 1999, we have adopted the high-tech intelligent pulse resonance technology to develop a series of battery restorers of lead-acid Battery Pulse Desulfator, as well as Battery Protector and Battery Saver to repair the "scrapped batteries" and "fatigue batteries", carried out test in all industries within 10 years (from 1999 to 2009) and got comprehensive recognitions. Therefore, the company's pulse repair patents are formed, and development and innovation of battery recovery business are carried out in domestic market and all industries.
With 4 cells restoration capacity simultaneously, This unit is equipped with 3 level of restoration current based on battery capacities. They are 3 pulse current range: 1A for 20Ah~30Ah cell, 2,5A for 36Ah~100Ah cell and 5A for 100Ah~300Ah cell batteries. With proper restoration current value, it can maximize the restoration efficiency and extend the service lifetime of the batteries. This unit is widely used for the UPS backup power of Banks, IDC, Telecom Base site and Power Battery etc. It can resolve the sulphation problems of battery capability decline and lifespan shortening. 6V cells could be restored by this restorer unit as well after they are series packed into 12V battery banks.
12V300Ah Battery Pulse desulfating Restorer is the core function of 12V
Battery Repair System
during the process of battery recovery.
APPLICATIONS
Off-line 12V300Ah Battery Pulse desulfating Restorer mainly used in:
Application to Industry Range: Sightseeing car, Golf Cart, Wind and Solar energy, UPS and Back up power system, Telecom base site battery, Tricycle, Boat, Train, State Grid and Military battery for Sudden affair, etc.

Applicable

Battery Type Range: All of Lead Acid Battery(AGM, GEL, VRLA, MF, Flooded, Dry, Traction, Deep cycle and Stationary), and widely range used in 12V (20~300Ah) cells.
TECHNICAL SPECIFICATION:
Synchronously Repair Battery Qty: 4 PCS Cells
Total Repair Cycletime:1~2 Days upon cell conditions
Input Voltage: AC198~240V/50~60Hz
Peak Pulse Current: 1A; 2.5A; 5A(±10%)
Peak Pulse Voltage: ≤18V
Duty Ratio Range: 5~95%(Smart)
Maxium Power: 0.36kW
TECHNICAL FEATURES
It can select pulse current in 3 stages for the cells with different capacities, can be used to repair 12V200Ah~300Ah lead-acid battery
It can smartly manage pulse current value, control the battery gassing and smartly adjust duty ratio, to obtain the optimal desulphation effect
It can smartly control polarization voltage and automatically enable the battery repair pulse for maintaining, without be operated by man
It has high-resistance repairing mode, which can be used to achieve best effective repairing for the battery not used for a long time
Before repairing, please charge the battery fully, check it for the need of water adding or check the positive plate for softening and falling off, etc.
We shall provide 12V Battery Digital Pusle Charger and 12V Battery Discharge Tester, and the technical parameters shall be attached separately (if required)
EASY INSTALLATIONS (As Below Graphic)
Detailed applications and manual introduction, please see the technical data center.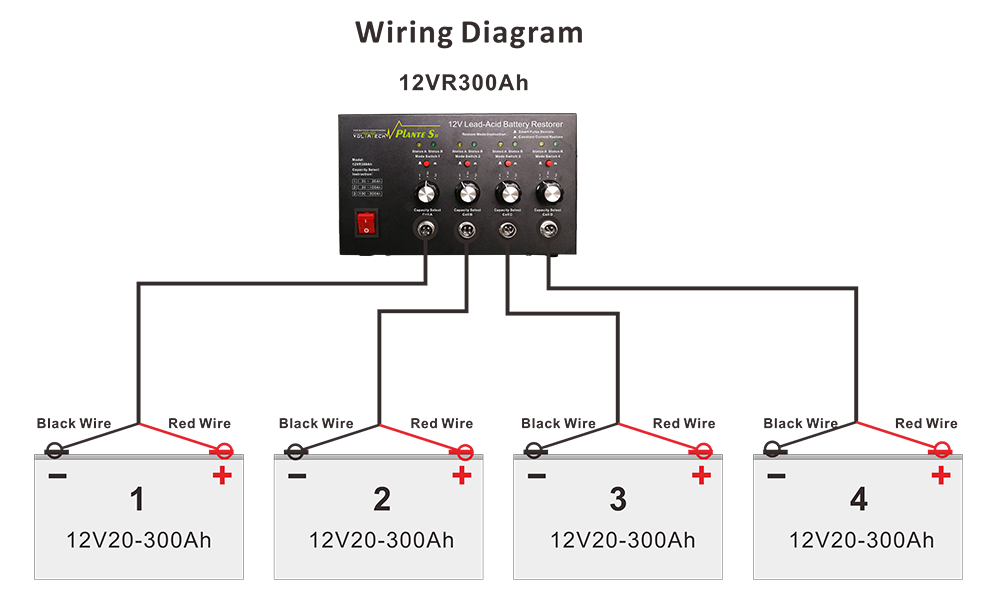 ADVANTAGES OF USING THE: 12V Battery Repair System
Our patented Composite resonant pulse technology is the best in the world, through intelligent pulse being resonant with sulfated crystals, restore battery vitality which results in increased electrolyte gravity, reduced inner resistance and increased battery capacity, and extend battery service lifespan without any damage to the battery physical structure and battery plates.
Combination of battery discharge tester and battery digital smart charger
Detailed test characteristic curve and data reports
Lowest maintenance cost and best effectiveness
Expanded lifespan of batteries
Smartly repair mode and High internal resistance repair mode for batteries with different characteristics in used
1year warranty of Battery reused after repaired completed
2 year warranty of Battery repair equipment itself
Intelligent control and management by IC design and MCU
CE/RoHS/ISO9001-certified
Field application certified - by Zhejiang University and Electrochemical Research Institute
Field application certified - by Department of Missile Engineering of PLA Ordnance Engineering College
Joint appraisal by experts group - From Professional field of Electrochemistry, Physics Power Supply, Environmental Sciences, Electronic Engineering, etc.
HOW TO USE THE: 12V Battery Repair System
There are two ways to use the battery repair system: Desulfated Battery repair as Battery Saver and Battery Pulse Desulfator for Battery Care annually
Desulfate

d

Battery repair as

Battery Saver

: allows you to repair old and aged (3,4,5, - more years) batteries, increase the aged or scarped battery capacity to more than 80% as new and reuse it
Battery Pulse Desulfator for Battery Care

annually

: allows you to keep your new battery in optimal on average, sulphate-free condition, by means of a yearly short time maintenance as a Battery Optimizer

WHAT and HOW REPAIR A BATTERY OR BATTERY RECOVER PROCESS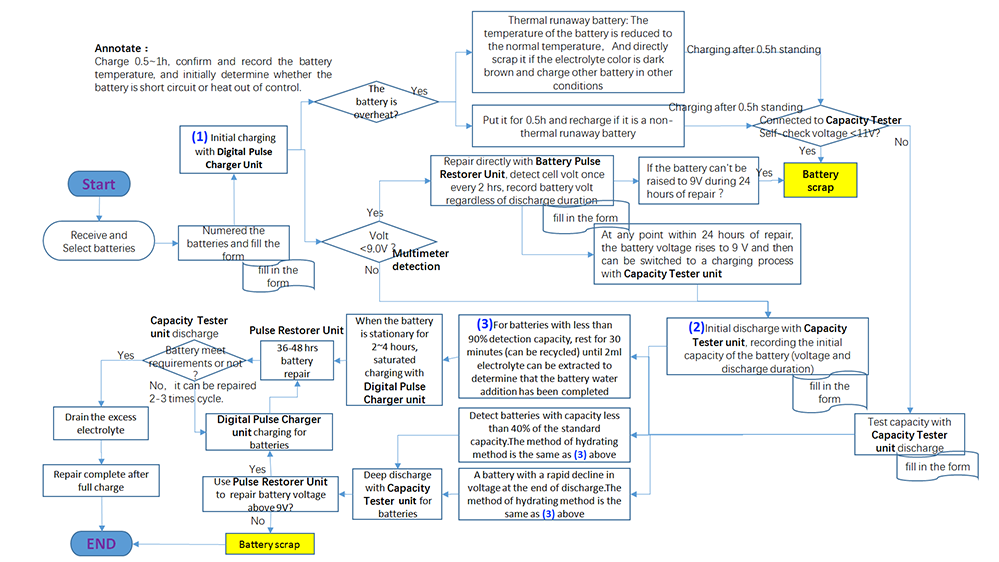 Warranty:2 Years,Detailed information you can see from Production Manuel Introductions
Looking for ideal 12V Battery Repair System Manufacturer & supplier ? We have a wide selection at great prices to help you get creative. All the Smart Battery Pulse Optimizer are quality guaranteed. We are China Origin Factory of Battery Pulse Desulfator and Doctor. If you have any question, please feel free to contact us.
Product Categories : Battery Smart Pulse Restore System > 12V Battery Restore System